The #1 Trusted Resource for Jan/San Decision Makers Since 1943
FAST FACTS
15,000 Distributor Owner/Executive subscribers


Readers sell $24 billion of cleaning products and equipment annually


Sanitary Maintenance is preferred by distributor executives 3-to-1 over the other distributor publication as the one magazine they read
Sanitary Maintenance is the original publication serving the distributors and wholesalers of sanitary supplies. To this day, its reputation for excellence is unequaled. Your customers and prospects depend on Sanitary Maintenance and its complementing digital outlets to stay on top of industry trends, best practices and timely reporting. This award-winning magazine reaches every type of distributor active in the sanitary supply marketplace including janitorial, paper, foodservice, industrial and wholesale. And Sanitary Maintenance is the most requested publication in the industry; distributor owners and executives demand it year after year!
Don't Let Your Ad Message
Fall on Deaf Ears.
Our circulation is the best in the industry.
Your ad message demands media that is distributed to and read by active, high-quality, verified industry decision makers. Anything less than that is a waste of money. Sanitary Maintenance is the most requested publication in the industry. Your customers want Sanitary Maintenance, which means your ad gets valuable exposure from credible decision makers.
An independent audit shows in the past year alone, 9,995 readers requested to receive Sanitary Maintenance
That's over three times more than Maintenance Sales News.
Source: June 2013 BPA Circulation Statement
Most Objective, Credible Content Gives Your Ad More Clout

Universally, people want unbiased coverage and reporting from the media. The same is true with the JanSan market. Sanitary Maintenance is the only publication serving the distributor market with exclusively staff-written content. You will not find manufacturer-written articles or glorified press releases. Our readers expect more from us and trust us to deliver real news and valuable information. According to a study, Sanitary Maintenance was selected as having the highest editorial integrity as judged by distributors who get both publications.
Sanitary Maintenance 74%
Maintenance Sales News 26%
Distributors Prefer Sanitary Maintenance

In a survey of distributors who receive both Sanitary Maintenance and Maintenance Sales News magazines, 76 percent identified Sanitary Maintenance as the publication they prefer. Your ad will definitely be seen.
Sanitary Maintenance 76%
Maintenance Sales News 24%
Sanitary Maintenance Named the Most Useful Resource for Distributor Product Selection!

Distributors researching products, making buys and seeking solutions turn to Sanitary Maintenance to help them be empowered and informed decision makers. The numbers don't lie. A study shows that the majority of distributors rely on Sanitary Maintenance for product and purchasing information.
Sanitary Maintenance 73%
Maintenance Sales News 27%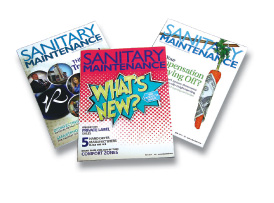 90% of readers took some purchasing actions in the past year after seeing ads in Sanitary Maintenance magazine.