Taking Care of Business...
For BSCs and Your Bottom Line
FAST FACTS
25,000 Building Service Contractor Owners & Executives read Contracting Profits


Readers spend $5.7 billion annually on products and equipment


They clean 34 billion square feet of floor space


Contracting Profits reaches nearly two times the number of contractor executives than any other magazine serving this market
Building service contractors choose Contracting Profits magazine to help them run smart and profitable businesses. As an advertiser in this award-winning publication, your products and solutions will be seen by business owners who are constantly looking to innovate, update and stay ahead of their competition. Alongside the compelling, exclusive content, your ad will influence high-dollar purchasing decisions and gain maximum exposure and favorability among BSCs.
We Deliver Your Ad Message to More BSCs than any Other Publication
Compared to the competition, Contracting Profits reaches twice the number of contractors, which gives your ad far-reaching coverage.
Contracting Profits*
24,737
Cleaning and Maintenance Management*
15,327
Services Magazine (not audited)
~10,000
Building Services Management*
7,147
* June 2013 BPA Circulation Statement (Excluding Services)
Contracting Profits is used by Decision Makers to Select and Purchase Products
90% use CP to learn about new products/brands
48% use CP to help in their product selection/purchase
37% have purchased products they saw advertised in CP
17% have recommended purchasing products they saw advertised in CP
Equipment/Supplies Purchased By Our Readers in a 12-Month Period
Products
% that have/will be Purchased
Bidding & Estimating Software
18%
Carpet Care Chemicals
83%
Cleaners & Degreasers
95%
Disinfectants & Sanitizers
92%
Microfiber Products
(mops, cloths, etc.)
83%
Mops and Mopping Equipment
(all types except Microfiber)
79%
Odor Control Products
66%
Paper Towels & Tissues
76%
Restroom Cleaning Machines
26%
Safety Signage/ Floor Cones
49%
Soap & Paper Dispensers
44%
Waste Receptacles / Recycling Containers
48%
We Know the Building Service Contractor Better Than Anyone Else
Contracting Profits was created solely for the cleaning contractor market and is considered the Inc. magazine of the industry. Subscribers benefit from timely, in-depth coverage written specifically for their business needs.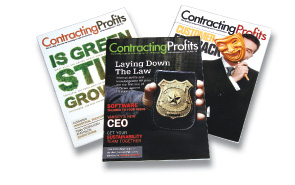 90% of readers took some purchasing actions in the past year after seeing ads in CONTRACTING PROFITS magazine.