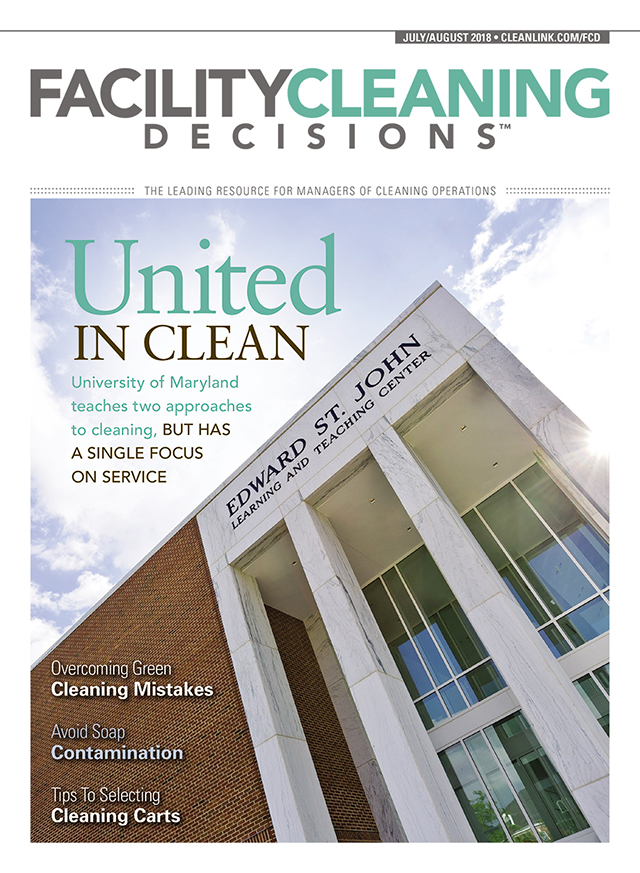 The FCD Advantages:
Market Coverage
35,500
Facility Cleaning Decisions Reaches Cleaning Managers in All Markets
Medical: 12,446 readers

Educational: 10,954 readers

Commercial: 4,875 readers

Government: 3,433 readers

Industrial: 1,974 readers

Hospitality: 1,202 readers

Retail: 616 readers
Readers are responsible for an average of 19 buildings and 1M+ Sq Ft.
Reaches the Most In-house Cleaning Managers
Your ads have the greatest reach
Facility Cleaning Decisions Circulation - 35,500
Cleaning and Maintenance Management In-house Circulation - 17,947*
Building Services Management In-house Circulation - 18,172**
*Source: December 2017 BPA
**Source: June 2018 BPA.
Note: 98% of Building Services Management circulation did not request to get the magazine.
Engaged Readers
78%
pick up their copy within a week of receiving
81%
read their copy two or more times
Our Readers Are Looking for Product Information
86%
use Facility Cleaning Decisions to learn about new products/brands
84%
of subscribers refer to the manufacturer's website after seeing an ad
Our Readers Purchase Products
70%
took a purchasing action after seeing ads in Facility Cleaning Decisions
Equipment & Supplies Purchased by Subscribers in 2018
Carpet Care Chemicals
69%
Cleaners and Degreasers
82%
Disinfectants and Sanitizers
85%
Engineered Water Devices (on site generation)
11%
Facility Management Software
14%
Floor Care Chemicals
77%
Floor Pads and Brushes
75%
Food Service Disposables (cutlery, cups, plates, napkins, etc.)
22%
Laundry & Warewashing Chemicals
48%
Laundry Products (carts, bins, tables, etc.)
20%
Machine/Equipment Batteries
57%
Microfiber Products (mops, cloths, etc.)
68%
Mops & Mopping Equipment (all except microfiber)
69%
Odor Control Products
63%
Paper Towels & Tissues
91%
Pest Control Products
46%
Protective Clothing (earplugs, eye care, masks gloves, garments, etc.)
70%
Restroom Cleaning Machines
33%
Safety Products and Equipment (signage, first aid kits, cleanup kits, etc.)
55%
Soap & Paper Dispensers
76%
Waste Handling Equipment (receptacles/carts, not liners)
42%
Your Ad Reaches Decision Makers
Health Care (Hospitals, Nursing Homes, Medical Clinics)
Director Maintenance Services, Shriner's Hospital / Maintenance Manager,  Mercy Hospital / Director Of Environmental Services, Good Samaritan Society / Maintenance Supervisor, Johns Hopkins University / Director Of Facility Services, Childrens Hospital / Director Environmental Services, University Of KY Hosp.
Education (K-12 School Districts, Colleges & Universities)
Director Of Operations, Penn State University / Building Services Manager, Michigan State University / Maintenance Manager, Indiana University Purdue University Indianapolis / Director of Facilities, Miami Dade County Public Schools / Director Of Facilities, University of Michigan / Maintenance Manager,  Texas A&M / Supt. of Building Services, University of Illinois / Dir. Supv. Custodial Services Sarasota, Sarasota County
Industrial
General Maintenance Manager, Kia Motors / Maintenance Manager, Steel Technologies LLC / Director Of Operations, Johnson Controls / Maintenance Supervisor, Lockheed Martin
Retail (Shopping Centers, Malls, and Retail Chain Headquarters)
Maintenance Director, Dollar Tree Inc. / Facility Maintenance Manager, Autozone Inc. / Team Lead Facilities, Kohls Dept Stores / Senior Manager Corporate Facilities/Fleet Maintenance, Giant Eagle Inc.  / Sr. Director Facilities Services, Wal-Mart Stores Inc. / Sr. Manager Store Facilities, Ross Stores Inc. 
Hospitality
Manager Facilities Maintenance, Hardrock Hotel And Casino / Senior Facilities Manager, Hyatt Corporation / Director of Facility/Maintenance, Subway Management Corporation / VP Of Maintenance, Disneyland / Senior Vice President Of Operations, Las Vegas Convention Center / Maintenance Supt., Wyndham Resorts / Operations Director, Heinz Field
Commercial
Facilities Director, Geico / Facilities Supervisor, State Farm Insurance / Manager Of Building Services, Nationwide Insurance / Manager Facilities Services, Johnson & Johnson / Director Of Maintenance, Cushman & Wakefield / Director of Operations, CBRE Group Inc
Government
Supervisory Building Manager, Deptartment Of Defense / Building Management Specialist, US Department Of State / Facilities Administrator, State Of Connecticut / Building Operations Officer, Federal Reserve Bank / Facilities Services Manager San Francisco Intl Airport / Airport Maintenance Supt. Los Angeles World Airports 
"
Facilities Cleaning Decisions magazine has been a valuable tool for me the past several years. The articles provide quick information for me to remind myself of important cleaning and up-to-date industry topics. It has a good balance of advertisements giving me information of manufacturer products that I may not be aware and may help solve an issue I may be experiencing."
— Michael Jones, Director of Custodial Services, Columbia Public Schools, Columbia MO
"
I am always excited to receive my copy of Facility Cleaning Decisions magazine. I look forward to reading the articles and case studies because they often directly relate to subjects I am working on or contemplating doing. Over the course of three to four publications, I have become better informed on the latest thinking on subjects ranging from infection control, leadership, stone floor maintenance and ADA compliance. This is just a small sample of the richness in topics related to the cleaning industry found in every issue. I typically share articles with my leadership team as a way to provoke new thinking and ideas. Once I'm finished reading, Facilities Cleaning Decision magazine finds a home on the shelf in my office for months and even years so I can easily retrieve them when I want to re-read an article."
— Gene Woodard, Director of Building Services (Custodial & UW Recycling), University of Washington, Seattle, Washington
"
Facility Cleaning Decisions Magazine is the "Go To Magazine" whenever I am seeking solutions as a leader, researching technology or organizational development in the cleaning industry. The magazine is a viable resource in its consistency to provide valuable and credible information to the readers. "
— Ada Baldwin, Director for University Housekeeping, North Carolina State University Raleigh, North Carolina
2019 Facility Cleaning Decisions Editorial Calendar
ISSUE
Special Coverage
Product Coverage
Bonus Opportunity
Online Sponsorship
January / February
Ad Close: 1/4/19
Materials Due: 1/11/19
Clean Buildings Expo Coverage

Complaints Survey

Overseeing Healthcare Operations
Combat Cold and Flu Infections

Vacuums
Bonus Distribution: Clean Buildings Expo, NFMT Baltimore

Trending Now: Restroom (Advertorial)
Healthy Schools
e-Newsletter

Virtual Edition

Cleaning Insider
e-Newsletter

Sole-sponsor e-Article
March / April
Ad Close: 3/5/19
Materials Due: 3/12/19
Use Earth Day to Share Sustainable Initiatives

Creating Healthier Schools
Preventing Slips and Falls on Hard Floors

Advantages to Water Technologies
Ad Readership Study
Virtual Edition

Cleaning Insider
e-Newsletter

Sole-sponsor e-Article
May / June
Ad Close: 5/3/19
Materials Due: 5/10/19
2018 Annual In-House Management Survey

Tackling Hospital-Acquired Infections
Waste Management & Sustainable Alternatives

Hand Drying
Trending Now: Floor Care (Advertorial)

Annual Management Survey Sponsorship Opportunity
Healthy Schools
e-Newsletter

Virtual Edition

Cleaning Insider
e-Newsletter

Sole-sponsor e-Article
July / August
Ad Close: 7/5/19
Materials Due: 7/12/19
Back to School Issue

Control Infections Through Handwashing
Cleaning for Health

Differences Between Cleaners and Disinfectants
Manager of Disctinction Award Sponsorship Opportunity (results in Feb 2020 issue)

Healthy Schools
e-Newsletter

Virtual Edition

Cleaning Insider
e-Newsletter

Sole-sponsor e-Article
September
Ad Close: 8/2/19
Materials Due: 8/9/19
State of the Industry Advisory Board Rountable

Distributor Choice Product Award Showcase
Paper Towel & Tissue

Floor Care Equipment Technologies
Trending Now: Carpet Care (Advertorial)
Virtual Edition

Cleaning Insider
e-Newsletter

Sole-sponsor e-Article
October
Ad Close: 9/6/19
Materials Due: 9/13/19
ISSA Show Coverage

Advancements in Green and Sustainable Initiatives
Preparing for Winter Weather

Cleaning Carts & Mopping Systems
Bonus Distribution: ISSA Show, NFMT Orlando

Advertisers receive a FREE Product Release in the November ISSA Product Showcase
Healthy Schools
e-Newsletter

Virtual Edition

Cleaning Insider
e-Newsletter

Sole-sponsor e-Article
November / December
Ad Close: 10/4/19
Materials Due: 10/11/19
Salary Survey

ISSA Product Showcase
Carpet Cleaning

Target Restroom Cleaning Hot Spots
Trending Now: Infection Control (Advertorial)

Salary Survey Sponsorship Opportunity
Virtual Edition

Cleaning Insider
e-Newsletter

Sole-sponsor e-Article
In Every Issue:
Healthy Schools Feature:
Member of the Green Clean Schools Steering Committee highlights their green program.
Case Study:
Examples of in-house departments finding success with their specific products.
Management Column:
This column tackles management challenges facility cleaning executives face on the job.
Products:
A showcase of the latest product innovations.
Green Column:
Tips to growing a sustainable and green cleaning program.
Facility Cleaning Decisions
Mechanical Specs
1/2 Page Island
4.5"
7.5"
1/2 Page Vertical
3.375"
10"
1/2 Page Horizontal
7"
4.875"
1/3 Page Square
4.5"
4.875"
1/3 Page Vertical
2.125"
10"
1/3 Page Horizontal
7"
3.125"
1/4 Page Vertical
3.375"
4.875"
1/4 Page Horizontal
7"
2.375"
1/6 Page Vertical
2.125"
4.875"
1/6 Page Horizontal
7"
1.5"
Mechanical Specifications:
Mechanical Notes:
Publication trim size: 7.875" x 10.75"
Bleed Page: 8.125" x 11"
Trims to 7.875" x 10.75"
Live Area: 7" x 10"
Note: Pertinent matter on bleed advertisement must be kept at least 0.5 inch from image edge. Bleed trim is 0.125 inch.
2 Page Spread Bleed
Bleed 16" x 11" Trim 15.75" x 10.75"
Note: Live matter must be kept 0.5 inch away from untrimmed edge and 0.25 inch away from each side of the gutter.

Trim variance is 1/8 inch
Line screen: 133
Output Resolution: 2540
Max Ink Density: 300%
4-color rotation (wet) is black, cyan, magenta, yellow
Printing: Web-offset
Binding: Saddle stitched

Mechanical Requirements for Inserts:
Contact production manager for insert specifications (size, stock, binding, shipping). Sample of insert must be submitted to publisher for mechanical clearance and pricing.
Issuance and Closing Date
Mailing Date: 10th of month of issue
Closing Date: 5th of preceding month.
Cancellation Date: No cancellation after 5th of preceding month.
Sending Your Ad:
Upload files to www.tradepress.com/uploads or mail CD or DVD (please include a pdf soft proof when uploading ads). Sending a Revised Ad: Indicate revised files in the file name (Example: File Name_r1.pdf, _r2.pdf, _r3.pdf etc.)
Mailing & Shipping Instructions
Send all contracts, insertion orders and electronic ad materials to:
Production Manager
Facility Cleaning Decisions
2100 West Florist Avenue
Milwaukee, WI 53209
For Questions:
Amanda Balistreri
Production Director
414.228.7701 x469
amanda.balistreri@tradepress.com
Preferred File Types:
PDF/X-1a:2001 or TIFF (TIF) for: 4-color process (CMYK) ads.
EPS or DCS2 (Photoshop eps) for: 2-color (3 process colors) ads.
EPS or TIFF (TIF) for: Grayscale or B/W (Process Black) ads.
*Note: We are unable to process Microsoft Publisher files
Because your best presentation is important to us, we have written this 10 STEP GUIDE guide to help you obtain maximum quality prior to us submitting your ad to the printer.
All fonts must be embedded, converted to outline or rasterized.
Photos and artwork should be at least 300 dpi. Lineart (ie: logos) should be 1200 dpi bitmap or a Vector image. We cannot submit any photos or artwork, to the printer, with less than 266 dpi.
All color must be set up in either spot color or CMYK (process color). All RGB colors will be converted and will not appear in print as it did on-screen.
All black type must be black only, not Rich Black or Registration.
All color photos must be converted to CMYK with a total ink limit of 300%. Click here for the quickest way to alter ink density levels.
All black and white photos must be converted to grayscale with a 20-25% dot gain.
Documents should be set up to the correct final ad size.
Any bleeds need to be set at 0.125" on all sides — no printer's marks or slugs.
Transparencies must be flattened. Layer/effects, Flattener Presets must be set to "high resolution."
It is recommended to use the Adobe PDF preset: "PDF/X-1a:2001" when creating your PDF file. This setting is an industry standard for printing (please deselect all printer mark defaults and, if applicable, include the bleed here).
File Naming
Please consider these suggestions when naming your file:
Advertiser name, publication and issue.
Refrain from using special characters. Indicate revised submissions by including "v2", "r1", etc., in file name.
Color Typography:
For optimum reproduction and clear and sharp copy, use sans serif fonts such as Arial, Calibri, Helvetica, Myriad or similar for small type. Reverse type reproduces best with large bold sans serif fonts. The same is true for color type. Thin serif fonts are difficult to read in color or reverse type. It is recommended that four color type and/or small four color reverse knock-outs be avoided. Black type that uses four color blends should never be used (Registration not allowed).
Proofs:
Black & white lasers are acceptable for grayscale ads.
Trade Press Media Group, Inc. pre-flights all files to the best of our ability. If we spot potential problems we will attempt to correct them or alert you to them. A proof for any textual/graphic changes made in our Creative Services Department will be submitted back to you for final approval. Due to the complexities of files and varied design techniques, we cannot be responsible for catching all trapping issues, typos or postscript errors.